by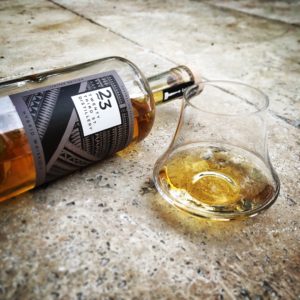 Twenty Third Street Distillery Hybrid Whisk(e)y. Renmark, South Australia. ABV: 42.3%. $80 (bottle).
An unique proposition…one to scare off the purists? It's a blend of imported Scotch whisky and American Bourbon that was then finished in some bourbon casks. Will it be a Frankenmonster or a bit of a surprise packet? Let's find out…
Colour: Rich gold.
Nose: Grassy; freshly snapped lantana and pine needles. Quite fresh.
Palate: Quite light and sweet; delicate on the front of the palate. Honey and spice, with some black jelly beans on the tip of your tongue.
Finish: Short and sweet. Slightly overcooked Anzac biscuits and blueberry coulis.
Comments: A hybrid that wasn't actually distilled at Twenty Third Street Distillery, but rather blended by the head distiller to create his perfect flavour profile. The distillery in its present incarnation was only founded in 2016, so at this stage they're producing gin, vodka, brandy and this blended whisk(e)y using barrels of sourced elsewhere.
I came into this with intrigue (read: a healthy dose of scepticism), but was pleasantly surprised. Great value for money too. Light, bright and sweet, it's the kind of whisky you'd pour to introduce a friend who has never tried whisky before. If Twenty Third Street Distillery can produce their own whisky in years to come with this flavour profile, I think they might do quite nicely.