by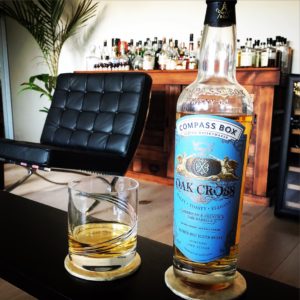 Compass Box Oak Cross Blended Malt. Scotland. ABV: 43%. Tasted at Whisky a Day HQ, $71 (bottle).
When the day is hotter than a shearer's armpit, most sensible people reach for an ice cold beer. Or water. Or a cold shower.
But here at Whisky a Day HQ we like to push the boundaries a bit…what kind of whisky is best for when it's so hot you feel like you're about to melt into the lounge?
Personally, it's not a rich warming whisky; definitely nothing peaty or smokey either. The antithesis to a 'winter warmer'…something light on the palate and easy to drink.  Yet with enough flavour to keep the tastebuds interested as every other part of your body sure as hell isn't interested in doing more than the bare minimum in this heat! The Compass Box Oak Cross Blended Malt seemed to tick most of those boxes…
Colour: Bright sunlight.
Nose: It may be hot but thankfully this is a more pleasant aroma than the aforementioned shearer's armpit.
Palate: Like a whisky spritz – it's light, zesty and a bit of a sing on the tip of your tongue. Sweet lemon sherbet and lemon tart; honey and black pepper too.
Finish: A fizzy, salty-sweet lemon and peppery tang. Medium length.
Comments: It's a blended malt, comprising malt whisky sourced from Clynelish (60%), Dailuaine (20%) and Teaninich (20%) distilleries. All were originally matured in first-fill American oak barrels, then blended and filled into a combination of French and American oak for further maturation. A light and summery dram, it's a whisky that you can pleasantly sip in hot weather and would go great with a few ice cubes to further take the edge off (and temperature down).