by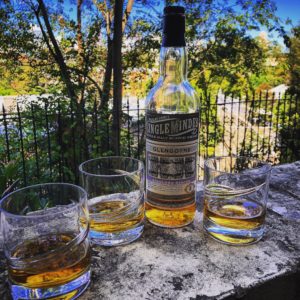 Douglas Laing's Single Minded Glengoyne 8 Year Old Single Malt. Highlands, Scotland. ABV: 43%. Tasted at Whisky a Day HQ, $80 (bottle).
Colour: Golden toffee.
Nose: Creaming soda & lemon myrtle. A new-make like sharpness and nose prickle to start, but like an excitable toddler this settles down with time in the glass.
Palate: Creamy lemon flavours, quite thin on the palate. Sharp pepper and creamy lemon meringue. My trusted whisky tasting lieutenant Brett thought it tastes better than it smells.
Finish: Shortish finish. Lemon sorbet. Cane, oak and straw notes; like sucking for too long on an ice cream stick.
Comments: This Glengoyne has given Brett renewed vigour. That will happen when between him, me and my good mate Kiwi we've damn near polished off the whole bottle in an afternoon. Which I guess is a ringing endorsement for either the whisky or the company…the whisky is fair, but the company is excellent. Cheers gents!