by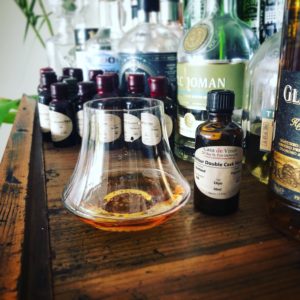 Aberlour 16 Year Old Double Cask Matured Single Malt. Speyside, Scotland. ABV: 40%. Tasted at Whisky a Day HQ, $14 (50mL sample from Casa de Vinos).
Colour: Polished copper.
Nose: Light on the nose. A basket of fresh lemons.
Palate: It's like chewing on the obligatory few gains of malted barley that you get handed when you do a distillery tour. A dry mouthfeel with toasted bread and a few woody notes. Easily glides down the tongue though.
Finish: Like chewing into a vanilla cream biscuit – still quite dry. Better have another sip to wash it down.
Comments: It's one of the least Aberlour-like Aberlours I've had; certainly not the sherry-driven flavours of many of their other expressions. The 40% ABV makes it very approachable and would be a good gateway whisky for those looking to explore Aberlour (rather than jumping into the cask strength explosive sherry bomb of say the Aberlour A'Bunadh), but it's probably not the best example of the house style. Easy drinking and pleasant however.