by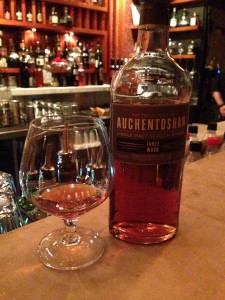 Auchentoshan Triple Wood Single Malt. Lowlands, Scotland. ABV: 43%.  Luxe Bar.
Appearance: quite a dark coppery colour, almost like sherry. Perhaps unsurprising given it's spent a third of it's triple wooded life in ex sherry casks. Insightful observations there Todd.
Nose: hints of cloves? Smells like it's going to be quite strong alcohol-wise.
Palate: extremely smooth entry, much smoother than expected. Shoots to the back of the mouth with tobacco & peppery notes.
Finish: despite the flavour kick at the back of the mouth, leaves a slightly sweet taste at the front. Woody aftertaste lingers.
Comments: much more pleasant to drink than yesterday's Glendronach 12 yr sherry matured. Possibly assisted because it was served by a cute barmaid rather than some balding overweight guy called Kevin at the other bar yesterday. That's probably not even his real name, but who cares. In spite of this, regular consumption of such a whisky would no doubt be inhibited by the name of the distillery which would be problematic to pronounce after a couple of drams of this rather nice drop.