by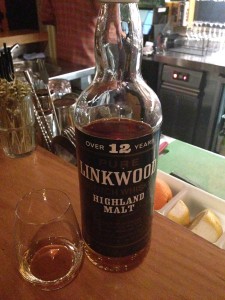 Linkwood 12 Year Old Single Malt. Speyside, Scotland. ABV: 43.00%. Tasted at Helvetica, $29.
Colour: Pale amber.
Nose: Wow, like sweet smoke from a campfire. Not a peaty kind of smoke, more like when you burn some green  leaves & branches on a fire.
Palate: More peat on the palate than the nose suggests, but it's not the mouthful of ash like some Islay malts, a little more subtle. A little nutty, a bit like having a bite of Swiss cheese. No holes in this though.
Finish: Medium length, not as much heat as the Cadenhead's Dalmore I had a few minutes ago.
Comments: I hadn't heard of Linkwood previously, perhaps unsurprising as the majority of their production goes into blends. So having happened upon a more unusual dram I took the chance to try it, as I'm sure it will get progressively more difficult to find unique whiskies I've not tasted as the year progresses. I'd say it's priced more for its rarity, but I'm very glad I tried this one – would definitely give it another run.