by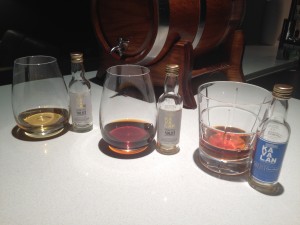 Kavalan Solist vertical tasting. Tasted at home, $16 for a tasting pack of 3 x 50mL bottles.
Kavalan Solist Ex-Bourbon Cask Strength Single Malt. Taiwan. ABV: 57.0%
Colour: Like a golden fried dumpling. C'mon, a Taiwanese whisky review had to have some kind of nationalist stereotype reference in there somewhere!
Nose: Somewhat sweet, straw-like aromas. Also a very faint hint of pineapple. Quite strong alcohol fumes.
Palate: Spice, bitterness and sweetness are well balanced; plenty of strong, complex flavours here. A bit of an oily mouthfeel upon entry. Sweetness quickly gives way to heat & woody, peppery notes.
Finish: Long finish, plenty of tingle at the front of the palate.
Kavalan Solist Ex-Sherry Cask Strength Single Malt. Taiwan. ABV: 57.0%.
Colour: Wow. Such a dark, deep crimson colour. Like a semi-translucent molasses. Don't think I've seen a sherry dram (or any whisky for that matter) with such a dark hue. Not that colour really makes one lick of difference when it comes to the whisky's taste, but geez it's a beautiful thing to look at.
Nose: Prunes & raisins.
Palate: Smooth, creamy entry; sweet oaky flavours roll through the mouth. Divine.
Finish: Much smoother, subtler flavours and shorter than the ex-bourbon cask Soloist. Dark chocolate notes in the fade. Delicious.
Comments: I would love to taste this side by side with the Glendronach Revival 15 Year Old. I don't think it's quite got the same sweet chewiness of the Glendronach, but geez it's a good drop. A real surprise packet, stunning!
Kavalan Solist Vinho Barrique Cask Strength Single Malt. Taiwan. ABV: 57.0%.
Colour: Pale reddish copper colour, almost a bit rose-tinted.
Nose: Toasty oak notes, quite soft though. Reminds you a little of a sherry dram, but much less intense. Especially after having tasted such a strong (and damn fine!) sherry dram. Definitely not the intense waft of alcohol like the ex-bourbon dram.
Palate: Slight salty, dried sultanas.
Finish: Dry, again lingering heat at the front of the mouth. Could be a Kavalan trait perhaps? May have to try some of their other releases to verify, purely for research purposes of course…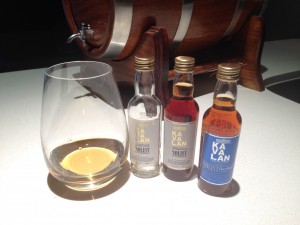 Overall comments: When I first picked up this trio it was because they were a) dirt cheap and would be a cost-effective way of knocking over another three whiskies; b) I had never heard of whisky being produced from Taiwan and was curious to try it; and c) I thought they would be primary candidates for the "truly awful" whisky category (primarily due to point "b" above) and would make for an interesting contrast to other whiskies. Boy was I wrong…
All three of the Kavalan Solist expressions were a pleasant surprise. Rich, full-flavoured, good balance of sweetness and spices, complex flavour profile…if I'd had a blind tasting I might have picked them for Tasmanian or Japanese single malts. I am happy to eat my words and declare they are far from "truly awful", they are actually truly delicious!
The ex-bourbon cask expression was a fantastic start, while the Vinho Barrique cask was also pretty good (in fact it was quite decent), but certainly a slight letdown after the amazing sherry dram. Luckily I left some of that to go back to…
The ex-sherry dram was by far the stand-out, not just for it's colour which is a thing of beauty, but for being such an outstanding all-round whisky – nose, palate and finish. It is by far the whisky which has brought the greatest upside surprise upon tasting, and one that I would happily hunt down a bottle to add to the collection at home. Highly recommended!