by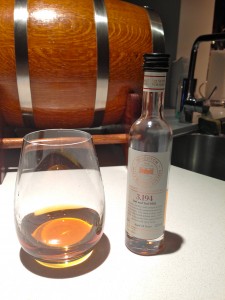 SMWS 3.194 Surf and Turf BBQ. 14 year old single cask from Bowmore distillery. Islay, Scotland. ABV: 58.3%. Tasted at home, 100mL tasting bottle as part of SMWS new members' welcome pack.
Colour: Deep, brilliant, burnished copper. So bright.
Nose: Strong alcohol fumes abound. Slowly dissipating with some time in the glass to reveal some toffee, butter & burnt orange scents. A hint of smoke too.
Palate: Freshly ground black pepper. Chewy; very meaty, with a smokey almost charcoal taste. It really does taste a little similar to a steak flame cooked on a BBQ.
Finish: Salty smoked aftertaste, long finish.
Comments: I not picking up the seafood flavours that the SWMS abundantly describe, but the meaty BBQ flavours are definitely there. Wow. Not your typic Islay – the smoke is ever-present but it takes a back seat to the complex flavour profile. Really enjoying this one! In fact I'm really loving the Scotch Malt Whisky Society releases generally; they're all unique, full flavoured and offer huge amounts of character that gradually reveal more layers with every sip.