by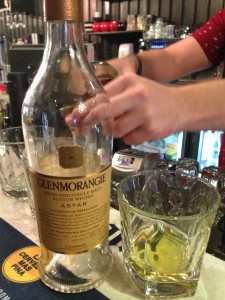 Glenmorangie Astar Single Malt. Highlands, Scotland. ABV: 57.10%. Tasted at The Aviary.
Colour: Pale gold, straw.
Nose: Slight oak, but very subtle. Not the sweetness of other Glenmorangie drams.
Palate: Salty apricot. Brett remarks that it's a lot smoother than he first anticipated, yet it has a bit on his tongue. I'm not sure whether he's talking about the whisky or the…
Finish: Quite dry, Dry dusty finish. A bit of spice and fire in the aftertaste, not as smooth as other Glenmorangies that I've come to love.
Comments: Bottled at the cask strength of 57.10%. Unmistakable Glenmorangie qualities, full flavoured and loads of spice.