by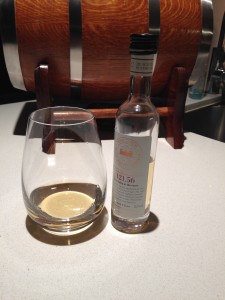 SMWS 121.56 Mint Julep at the Races. ABV: 58.5%. SMWS bottling from the Isle of Arran distillery. Isle of Arran, Scotland. Tasted at home, 100mL tasting bottle as part of SMWS new members' welcome pack.
Colour: And they're off in the big one! Pale straw colours are quick out of the gate…
Nose: Some sweet woody notes moving up through the pack now…
Palate: Rich full flavours making a strong charge as they head down the back straight. I can taste some creamy honeycomb maybe some dried apple. Buttery honey flavours as they round the final bend for the home stretch…
Finish: Warmth tingles on the front half of the tongue, strong finish with the flavours and tingle taking longer to finish than the nag I backed in last weekend in race 8 at Morphetville (otherwise known as the "Get Out of Jail Stakes").
Comments: Apart from the honeycomb, I'm not getting much of the other stuff from the SMWS description on the label. I've not had a mint julep at the races, I'm usually knocking back a dozen beers trying to wash out the nasty taste of doing my dough backing another donkey who is still running around the track two days after the race has finished.
All in all, I really liked this one. Rich, creamy, full flavoured and a hint of sweetness – this is fast shaping up to be some of my favourite qualities in a whisky. At the recent SMWS tasting, one of my favourites was SMWS 121.65 A Well-Oiled Baseball Glove, which is actually from the same distillery as this dram – the SMWS distillery code "121" is for the Isle of Arran distillery. Based on this, I will definitely be looking out for more SMWS releases "121.xx", I'm also keen to try some more Arran malts released directly by the distillery or by some independent bottlers. Highly recommended.