by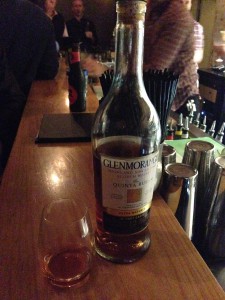 Glenmorangie The Quinta Ruban 12 Year Old Single Malt. Highlands, Scotland. ABV: 46.00%. Tasted at Helvetica, $16.
Colour: Deep copper.
Nose: Hay; some toasted notes too.
Palate: Soft, cool entry. Not the big hit of sweetness I was expecting from a whisky that has spent it's final couple of years extra maturing in ex-port barrels. Salty with a hint of sweetness. Not a huge vanilla hit but it's there, along with some other mixed spices, mainly cinnamon.
Finish: Quite a dry finish, but medium-long. Oaky, somewhat sweet tobacco flavours linger, my whole mouth has a slight tingle but it's definitely not a burner.
Comments: Of the three of Glenmorangie's extra matured range, the Nectar D'Or has long been my favourite, so I hadn't given the Quinta Ruban (or the Lasanta) much of a go. After the standard Glenmorangie 10 years maturing in ex bourbon barrels, the Quinta Ruban has then spent its extra maturation time (circa 2 years)in ex port barrels from Portugal. I've always enjoyed a good fortified (muscat is my favourite), but I've never been massively into port-finished whiskies. Though on the back of this tasting, I think I might have to have a few more Quinta Rubans!