by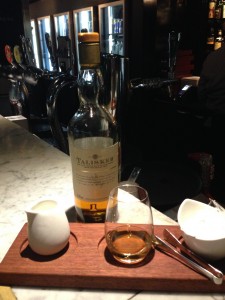 Talisker 18 Year Old Single Malt. Isle of Skye, Scotland. ABV: 45.80%. Tasted at The Royal Hotel, $15.
Colour: Lustrous orangey gold.
Nose: Smooth smoke (in that it doesn't burn your nostrils), but still quite intense aromas. A touch of cayenne pepper.
Palate: Smooth entry, peppery toffee flavours.
Finish: Soft smokey almost sherry hints. Medium heat, lingers for a while.

Comments: A little too fiery for what I was expecting. Still smoother than the Talisker 10, but I guess I was hoping it to be much smoother. It's a good drop with that typical Talisker spice, but I guess it goes to show you shouldn't go into a tasting with too many preconceptions about what it's going to be like – you should just try to enjoy it and judge it on its merits after you've finished.