by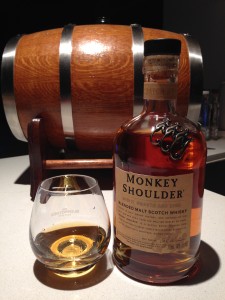 Monkey Shoulder Batch 27 Blended Malt Scotch Whisky. Dufftown, Scotland. ABV: 40.00%. Tasted at home, $43 (bottle).
Colour: Brilliant bronze.
Nose: Honey and straw; quite light.
Palate: Sweet; a touch of liquorice, plenty of oak and a bit of vanilla.
Finish: Flavours have a very long and gentle fade out. There's not a lot of heat, which allows you to really savour the rich sweet flavours.
Comments: The name Monkey Shoulder comes from the condition that was common amongst many distillery workers back in the day before machinery was used, whereby they experienced shoulder strain injuries from manually turning the malting barley on the floor of the malting room with a 'shiel', which is kind of like a big wooden spade.
This is a cracking blend, so much depth of character, plus it's great value. It would appeal if you're mainly into blends but are curious about transitioning into single malts; likewise if you're strictly into single malts and usually steer clear of blends, this could be a great bridge to the world of blends. Recommended.