by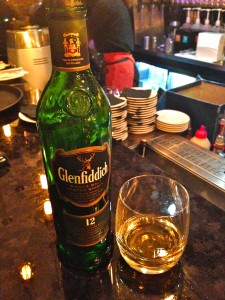 Glenfiddich 12 Year Old Single Malt. Speyside, Scotland. ABV: 40.00%. Tasted at Marquay restaurant, $12.
Colour: Dark gold. Not a bright spark.
Nose: Sweet honey, lemony scents.
Palate: More intense on the palate than I was expecting. Cinnamon, some subtle vanilla, but not a heap of sweetness.
Finish: Warm honey, sweet oak notes. Like many other mainstream single malts, I've resisted tasting whiskies like the Glenfiddich 12 as my strategy has been to try and choose some of the more unusual whiskies on offer at each bar and leave the more commonly available ones like the Glenfiddich 12 up my sleeve until the back end of the year when it may start to become challenging to find whiskies I've not tried yet. Having not tasted the Glenfiddich 12 for a long time, I was pleasantly surprised that it was as complex as it is – I guess I'd pigeon-holed it as being a common single malt so it must be quite simple. It's a great malt; it's certainly not got the depth or complexity of some whiskies I've tried this year, but it's a great value, dependable and available almost everywhere.