by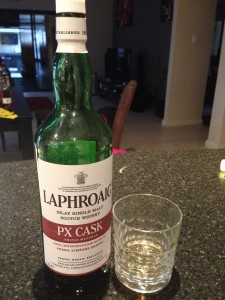 Laphroig PX Cask Single Malt. Islay, Scotland. ABV: 48.0%. Tasted at my mate Joel's place, $0. (No, this wasn't just me rocking around to Joel's place and getting stuck into his whisky, I brought a couple of bottles of my own too!).
Colour: A striking, dark gold.
Nose: Much softer than other Laphroigs; there is a touch of sherry.
Palate: Ah there's the peat. The sherry notes are lost, but it seems to have softened compared to your average Laphroaig.
Finish: Oaky peat notes. Medium to long finish. Maybe a slight hint of sweetness in the fade, but it's very subtle.
Comments: The Laphroig PX has undergone triple maturation – firstly in ex-bourbon barrels, then American oak quarter casks, then finally in ex Pedro Ximenez casks. I'm not convinced it adds a lot flavour-wise, but the time in PX casks maybe softens the whisky a little. The PX is generally only available in duty free stores, and while it's a good whisky I'm not about to book an overseas trip just to pick up a bottle.