by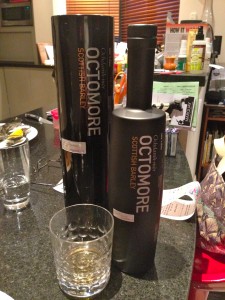 Bruichladdich Octomore Edition 6.1 Cask Strength Single Malt. Islay, Scotland. ABV: 57.00%. Tasted at my mate Joel's place, $0 (courtesy of my trusted whisky tasting lieutenant).
Colour: Pale gold.
Nose: Meaty peat aromas, almost a bit musty.
Palate: Lots of peat & smoke; not as complex as I was hoping. Still a fantastic taste though!
Finish: Campfire smoke, hint of mint maybe? Looooong finish.
Comments: Despite its reputation as the peatiest whisky in the world, it didn't taste as big and peaty as I had expected. I enjoyed the nose quite a lot, in fact I'm really starting to appreciate the peaty whiskies that also have a charcoal meaty kind of aromas and flavours. The Octomore is an interesting beast, one that I want to explore in more detail. Might have to organise another whisky tasting…around at Joel's place again of course so I can have some more!