by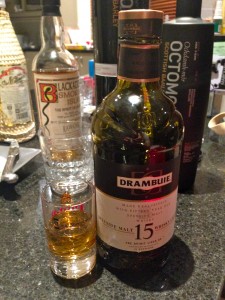 Drambuie 15 Year Old Speyside Malt Whisky Liqueur. Speyside, Scotland. ABV: 43.00%. Tasted at my mate Joel's place (to wrap up the whisky tasting afternoon).
Colour: Amber gold.
Nose: Some subtle herbaceous notes.
Palate: Sweet honey; syrupy clove flavours.
Finish: Very smooth; some cinnamon notes to finish.
Comments: It's certainly not as sweet as I had expected. At 43% I guess that shouldn't surprise, but having only had liqueurs at typically around 20% I guess it's quite a different beast. Much more towards the whisky end of a theoretical whisky-to-liqueur spectrum. I haven't had the standard Drambuie liqueur to compare it with, but all in all a fine way to finish up the afternoon's whisky tasting. The sweetness of the Drambuie 15 is definitely a welcome palate cleanser after all the peat we finished on with the Laphroig PX Cask, Bruichladdich Octomore and Blackadder Smoking Islay Raw Cask (Sherry Cask).