by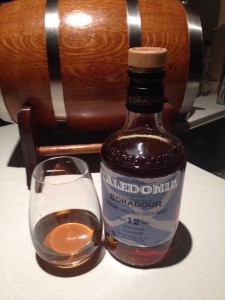 Edradour 12 Year Old Caledonia Selection. Highlands, Scotland. ABV: 46.0%. Tasted at home, $55 (bottle).
Colour: Luscious deep copper. It's a beautiful thing.
Nose: Sweet sherry goodness awaits. Mixed dried fruit aromas too.
Palate: Intense sherry and caramel flavours; a perfect balance of sweetness, spices and heat. Oily, syrupy mouthfeel. Amazing.
Finish: Long flavour fade, medium length for the heat. Soft pepper and toffee flavours.
Comments: This expression was apparently created when Edradour asked Scottish singer Dougie Maclean to select a single Oloroso cask and they named it after his most famous song, "Caledonia". What a load of marketing hogwash.
All that bullshit aside, this is a stunning whisky – it makes me want to drink it all day. For many days on end. It has huge depth of flavour yet with that residual sweetness that makes you want to lick the inside of the glass to make sure you've gotten every last little drop. All of this from Scotland's tiniest distillery, reportedly run by just three guys. Amazing stuff fellas.