by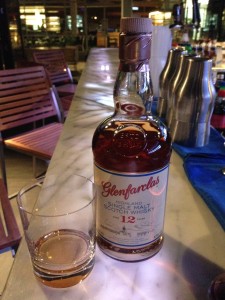 Glenfarclas 12 Year Old Single Malt. Speyside, Scotland. ABV: 43.00%. Tasted at Sushia, $17.
Colour: Bronze.
Nose: Slightly nutty with a hint of sweetness. Much like my Scottish friend Shelly!
Palate: Salted caramel, much more salt than sweetness though. Plenty of oak.
Finish: Spice and cocoa; warm mouthfeel that builds slightly as the flavours fade.
Comments: Not as smooth as the Glenfarclas 15 nor does it have quite the depth of flavour, as you would expect. Not bad, but if this was a horse race and you had to back one, I'd be looking to its stablemate.