by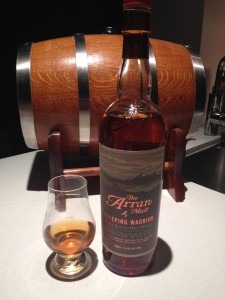 The Arran Malt Sleeping Warrior Single Malt. Isle of Arran, Scotland. ABV: 54.9%. Tasted at home, $80 (bottle).
Colour: Deep copper.
Nose: Plenty of oak and some dry sherry notes.
Palate: Sherry abounds, but it's not an overly sweet syrupy sherry taste. Oily warming mouthfeel, very rich intense flavours. Salted caramel and spice.
Finish: Dries quite quickly at the front of the palate, but the back of the palate there's still some rich sherry flavours hanging out, just doing their thing. Long finish, gradual fade.
Comments: Collectively, the malts from Arran really have been one of the finds of the year for me. The Sleeping Warrior was vatted from a combination of whisky matured in ex sherry, bourbon and red wine casks. It's probably not my favourite Arran I've had thus far, but geez it's a top drop.