by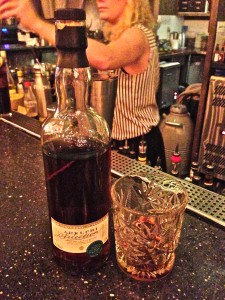 Adelphi Tobermory 18 Year Old Cask Strength Single Malt. Isle of Mull, Scotland. ABV: 58.80%. Tasted at The Laneway Lounge, $32.
Colour: Deep burnt toffee.
Nose: Wow, rich sherry notes. Dried muscatelles, candied fruits. I could sniff this all day. Very smooth, not even a hint of alcohol fumes to suggest it could be something up around 58% ABV.
Palate: An explosion of flavour; creamy sherry notes dominate. Definitely mouth warming.
Finish: Long and strong. Quite dry, the heat tingles all around the palate; even the roof of my mouth went a bit tingly and numb. A salty, almost slightly bitter sensation in the fade.
Comments: I have no doubt that this would benefit from a drop or two of water to soften it and open up some flavours, however in the name of Whisky a Day's rigorous research methodology I must refrain from water, ice or anything else so I can judge each whisky on its merits. It's a fantastic drop, though for me the nose is certainly the standout – deliciously complex.