by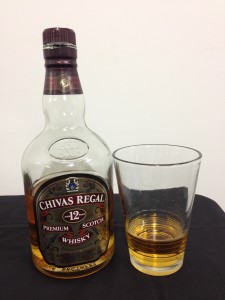 Chivas Regal 12 Year Old Blended Scotch Whisky. Highlands, Scotland. ABV: 40.00%. Tasted at my mate Ryan's place, $0 (courtesy of the poker fund).
Colour: Pale gold, like the $50 notes I'm about to throw away in poker tonight.
Nose: Very soft aromas. Toasted cereal & oak feints.
Palate: Cigar box, straw, dried pineapple, sweet oak.
Finish: A gentle flavour fade, medium length. Much longer than I expect to last in this poker game.
Comments: Pleased to say my low expectations were exceeded with the Chivas 12. It surprisingly had more going on than I'd previously given it credit for, I expected it to be more one dimensional. Solid but certainly not spectacular, good value though. Personally if was to recommend a good value blend I'd prefer the Monkey Shoulder Batch 27 Blended Malt Scotch Whisky.