by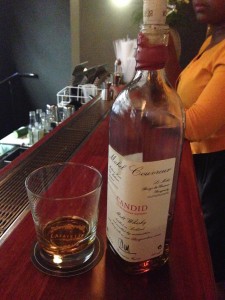 Michel Couvreur Candid Malt Whisky. Burgundy, France. ABV: 49.00%. Tasted at Lafayette.
Colour: Deep amber.
Nose: Smokey, meaty, yet thick molasses notes punctuating the olfactory profile. That last bit was an attempt to sound as wanky as possible, think I succeeded.
Palate: Big and thick mouthfeel, almost furry. Smoke all over the place, like sweet hickory BBQ sauce slathered all over some baby back ribs.
Finish: Very long. Giles got beef jerky, the longer it goes the more jerky you get.
Comments: Surprising – I certainly wasn't expecting such a meaty, smokey and intense whisky given my tasting of two other Michel Couvreur whiskies (the Overaged and Clearach single malts). This was fantastic, I could drink this all night. It's so tasty it almost makes you want to lick the day off your fingers like you would after devouring that juicy rack of BBQ pork ribs.