by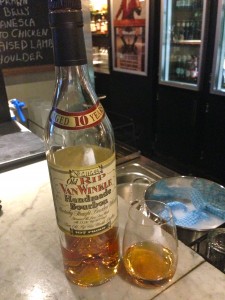 Old Rip Van Winkle 107 Proof 10 Year Old Bourbon Whiskey. Kentucky, United States. ABV: 53.50%. Tasted at The Royal Hotel, $18.
Colour: Deep orangey amber, like sap oozing from an old tree trunk.
Nose: Slight prickle with the first sniff. Pine needles. A freshly struck match.
Palate: Lots of rye and spice, predominantly pepper. Warmth builds with intensity.
Finish: Alcohol vapours seem to want to float to the highest point at the roof of the mouth. Long finish – the tongue is just buzzing for ages.
Comments: Damn, a sip of this would've quickly woken old Rip from his slumber, it certainly packs a punch. A brutally intense rye, but not enough flavour complexity for my liking – it's just not subtle enough.