by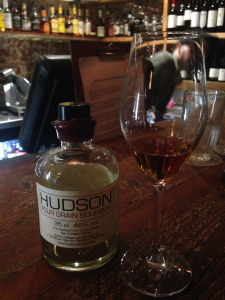 Tuthilltown Spirits Hudson Four Grain Bourbon. Gardiner, New York State, United States. ABV: 46.00%. Tasted at Varnish on King, $37.50.
Colour: Like a freshly varnished timber bar top at a bar called Varnish.
Nose: Caramel. Lots of it. Reminds me a little of some of the drier sherried Speyside or Highlands malts.
Palate: Ok, definitely a bourbon. Drier than I was expecting upon entry.
Finish: Aniseed aftertaste. Prickly ash, salty flavours.
Comments: Very dry, very rye. Definitely not a patch on the Hudson Baby Bourbon, which I think is their best offering that I've tried.