by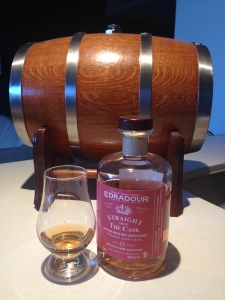 Edradour Straight From the Cask 11 Year Old Burgundy Cask Finish Single Malt. Highlands, Scotland. ABV: 58.8%. Tasted at home, $70 (500mL bottle).
Colour: Bright orange.
Nose: Dry, soft oak; almost a bit powdery in a way.
Palate: Not as smooth, sweet as the Edradour Caledonia; dry and oaky. Like licking a paddle pop stick.
Finish: Straw-like flavours, medium length; leaves a tingle at the front of tongue.
Comments: I definitely had high expectations given how much I enjoyed the only other Edradour I've tasted before, the Edradour 12 Year Old Caledonia Selection. However this one, while still a solid dram, failed to live up those lofty expectations. It didn't have anywhere near the same level or complexity, sweetness or depth of flavour in my opinion. I'm keen though to drop by the Edradour distillery in Pitlochry to see what other drams they have on offer!