by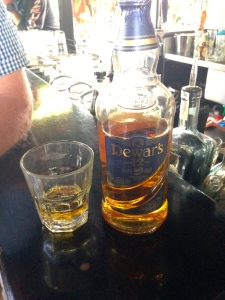 Dewar's 12 Year Old Double Aged Blended Scotch Whisky. Scotland.
ABV: 40.00%.
Comments: Very rich honey. Or the colour of a middle-aged strawberry blonde Scotsman drinking whisky.
Nose: Earthy straw-like notes. My good mate Donald (aforementioned middle-aged strawberry blonde Scot) detected some toffee.
Palate: Buttery yet quite thin. A bit floral.
Finish: Quite dry, short to medium length. Almost a faint sweet tobacco aftertaste.
Comments: Meh, nothing special. Special though to share it with such a great mate that I don't get to see nearly as much as I would like. Donald – absolute legend, a shame I don't get to spend more time in Melbourne to share a few more drams with you mate.