by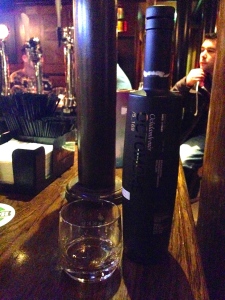 Bruichladdich Octomore Edition 5.1 Cask Strength Single Malt. Islay, Scotland. ABV: 59.50%. Tasted at Òran Mór (Glasgow), £15.20.
Colour: Deliciously golden.
Nose: Lots of peat (obviously), medicinal, quite meaty too. Also reminds me of the smell of freshly sawn camphor that my dad used to cut up for wood turning.
Palate: Peat smoke, lots of it. Fresh onion too.
Finish: Drying peat & smoke flavours naturally. Also some subtle raspberry flavours in the fade, like you've just eaten some Allen's red frogs.
Comments: Not as meaty on the palate as I was hoping for, given the teasing of the nose. Overall? It's very good, but not spectacular. Maybe I'm being a bit harsh, but it's probably because I had such high expectations of the Octomore 5.1 given other outstanding reviews and friends who have tried it.