by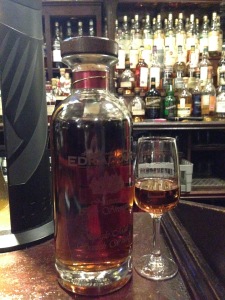 Edradour Natural Cask Strength Single Malt. Distilled 2000, bottled 2014 (cask #2008). Highlands, Scotland. ABV: 57.1%. Tasted at The Pot Still (Glasgow), £6.85.
Colour: Dark copper.
Nose: Sweet charcoal, perfume, sherry notes too. Fantastic layers.
Palate: Immediate tingle on the lips as the flavours begin to dance around your mouth. Oily mouthfeel, rich full sherry flavours – rich sultanas, saltiness too.
Finish: Nutty sweet sherry notes hang around for ages. The front half of the palate and your lips seem to tingle for an eternity; what a buzz.
Comments: Wow, what a dram. Love it. Rich, fruity and spicy – it's hard to write a tongue-in-cheek review of a whisky this good. Highly recommended.