by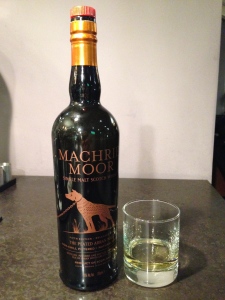 The Arran Machrie Moor Single Malt (Fifth Edition). Isle of Arran, Scotland. ABV: 46.00%. Tasted at The Douglas Hotel (Isle of Arran), £4.95.
Colour: Very pale, very translucent.
Nose: Surprisingly peaty; I hadn't tried a peated Arran malt before, I didn't realise they did one to be honest.
Palate: Full flavoured. Slightly salty, raspberry flavours; a fair bit of smoke too.
Finish: Salty yet some ever so sweet citrus notes in the case. Tingles long at the front of the palate.
Comments: Like cooking some marshmallows over an open fire. A little smokey, yet with some residual sweetness acting as a nice contrast. I like it, but probably not as much as their other malts. Pretty cool to be drinking some Arran whilst on the Isle of Arran, can't wait to check out the distillery tomorrow!