by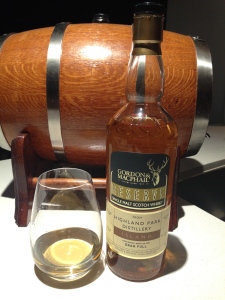 Gordon & MacPhail Reserve Highland Park 15 Year Old Single Malt – Exclusively Bottled for Dram Full (Cask No. 4255). Orkney Islands, Scotland. ABV: 53.9%. Tasted at home, $154 (bottle).
Colour: Bright, brassy gold.
Nose: Sweetness, vanilla and floral notes.
Palate: Crisp, peppery, quite light and a little fruity – think tropical fruit salad but not overly sweet. In fact, it almost reminds me a little of some Arran malts.
Finish: Dried apple, medium finish.
Comments: Definitely nothing like your typical Highland Park, which makes this a particularly interesting release. Distilled in 1999, bottled in 2014, it is one of only 145 bottles. It is the first Dram Full bottling, hopefully the first of many to come!