by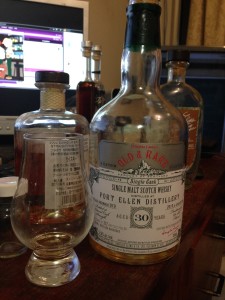 Douglas Laing's Old & Rare Port Ellen 30 Year Old Single Malt (distilled December 1979). Islay, Scotland. ABV: 52.6%. Tasted at my friend Nathan's place, a very generous share from the whisky fiend.
Colour: Very pale liquid gold.
Nose: So complex. Sweet meaty smoke; like you've thrown some green leaves on a campfire that's flame-grilling a big juicy steak.
Palate: Meaty, citrus and smooth subtle smokiness. So smooth.
Finish: A gentle, sweet smoky tingle that gradually fades.
Comments: Only the second time I've been privileged enough to try a Port Ellen, with their malts being one of the most sought-after of all the defunct distilleries. And I can see why, this is amazing and amazingly complex, yet has a subtlety that some other Islay malts can't even come close to. Outstanding.