by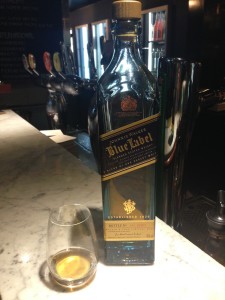 Johnnie Walker Blue Label Blended Scotch Whisky. Kilmarnock, Scotland. ABV: 40.00%. Tasted at The Royal Hotel, $35.
Colour: Pure gold.
Nose: Surprisingly complex – I was not expecting that. Light floral and almost a few sherry-like fruit notes. The barest touch of oak too.
Palate: A very smooth entry with a cooling sensation as it floats around your mouth. Oily mouthfeel, vanilla and floral notes.
Finish: Medium length. A salty fade initially, but then there's a semi-sweet buzz of honey and gentle warmth that tingles on your gums long after you swallow the last drop of liquid.
Comments: I was a bit apprehensive about tasting the Johnnie Walker Blue Label, as it has so much hype and I was prepared to be quite disappointed. However, I really enjoyed it.  It has fantastic complexity for a blended whisky and a great flavour profile, not unlike some single malts actually. I think it's overpriced and there are better value blends to be had, but if you don't mind paying for the marketing it's actually a very enjoyable whisky.