by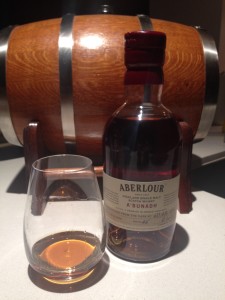 Aberlour A'Bunadh Single Malt Batch No. 46. Speyside, Scotland. ABV: 60.4%. Tasted at home, $123 (bottle).
Colour: Devilishly dark copper.
Nose: Rich muscatels, mixed dried fruits slathered with caramelised brown sugar. A bit of a nose prickle at the end…mainly because I'm enjoying the nose so much I'm almost inhaling the whisky up my nostril faster than Charlie Sheen can say "winning!".
Palate: Cocoa, cigar box oakiness, intense molasses syrup.
Finish: A long, satisfying, rich fruity tingle around the mouth.
Comments: Everything I love about a whisky is in this bottle. Outstanding, definitely hasn't lost anything from the Batch 45 I tried at the start of the year. I think the A'Bunadh will be a permanent fixture in my whisky collection going forward.