by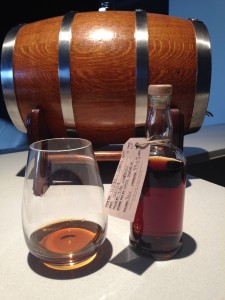 Balvenie 13 Year Old Sherry Butt Cask Strength Single Malt (Cask No. 11270). Speyside, Scotland. ABV: 59.6%. Tasted at home, £25 (200mL bottle, which I filled straight from the cask on the Balvenie distillery tour).
Colour: Stunning, almost a crimson-copper shade.
Nose: The alcohol feints rush to jump up your nose, before a more measured sniff reveals intense fruity aromas, sweet toffee and dusty oak.
Palate: Rich and chewy. Intense toffee and somewhat tart berry flavours, think cranberries and raspberries. A fantastic balance of sweetness and tartness.
Finish: Quite long, almost a bit salty right at the end after the flavours begin to fade. An electrifying tingle on the tip of the tongue as the sherry flavours subside.
Comments: An amazingly complex drop, lots of contrasting layers right the way through.