by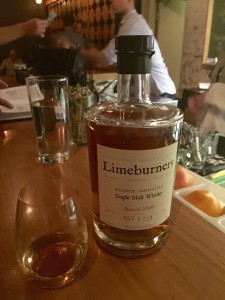 Great Southern Distillery – Limeburners Barrel M140 Single Malt. Albany, Western Australia, Australia. ABV: 43%. Tasted at Helvetica, $18.
Colour: Light lustrous amber.
Nose: Hokey pokey ice-cream; rich and syrupy, yet somewhat creamy.
Palate: A little bit of let down compared to the nose and the finish, not as intense a flavour punch as I was hoping. Smooth sweet and dry balance, lovely dusty port flavours.
Finish: Port, sultanas and a slight dry oaky finish.
Comments: Great flavour profile, but ultimately it's not quite as strong as I would like. For this expression, think I'd prefer it bottled at a higher ABV to really enjoy the richness of what are some amazing flavours going on here. Still a great drop though, would be a great introductory malt for those whose palates are not accustomed to high ABVs but who want to discover Limeburners and see what all the fuss is about.