by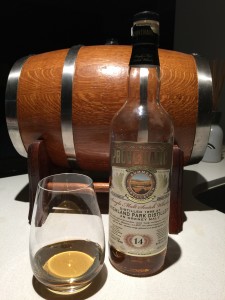 The McGibbon's Provenance Highland Park 1998 Summer Distillation 14 Year Old Single Malt. Orkney Islands, Scotland. ABV: 46%. Tasted at home, $115 (bottle).
Colour: Tired autumn leaves.
Nose: Fragrant and fruity, like a freshly cut rockmelon. Some toasty, honied notes too.
Palate: Buttery shortbread, with some spicy (almost peppery) vanilla notes. Oily mouthfeel. A hint of heat from the alcohol.
Finish: Initially a little short, but then there's some flavours that hang about and them seem to intensify slightly in the mid palate.
Comments: Quite a decent little drop. It's not a world beater, but it's certainly a very good drop. Good enough that I can't think of any smart arse remarks to make about it!