by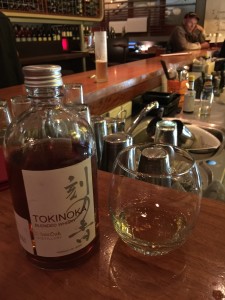 White Oak Distillery Tokinoka Blended Whisky. Akashi, Japan. ABV: 40%. Tasted at Must Wine Bar.
Colour: Light yellowy amber.
Nose: Slight prickle; straw & faint toffee notes.
Palate: A very cool entry. Toasted malty flavours.
Finish: Dry, grassy, some bamboo shoot afternotes. Quite short.
Comments: Not all that inspiring. Apparently Tokinoka means "fragrance of time" in Japanese – unfortunately for me I'd rather spend my time nosing something with a bit more body and character.