by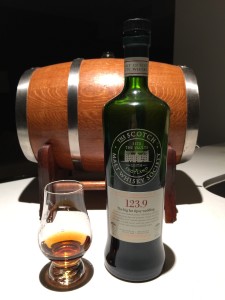 SMWS 123.9 The Big Fat Tipsy Wedding. 16 year old single cask from Glengoyne distillery, Highlands, Scotland. ABV: 56.6%. Tasted at home, $258 (bottle).
Colour: Rich caramel.
Nose: Golden syrup, honeycomb, dusty bookshelves. My mate Pete had a nose and got blackcurrants, sultanas and muscat.
Palate: Tangy, spicy, orange syrup flavours – think Duck a l'Orange, but with an Asian twist – star anise, cinnamon and cloves. It actually reminds me of Kylie Kwong's crispy skin duck from her Sydney restaurant Billy Kwong. Fantastic stuff.
Finish: Drying tobacco notes, like the aftertaste of a good cigar.
Comments: Like attending any wedding, your mind drifts to loves you've had and lost, those you've missed because of unfortunate timing, or those in the wedding party that you wouldn't mind, ahem, getting to know a little better. Drinking this dram caused my mind to wander, contemplating not just these aforementioned things but also musing at the amazing complexity of this whisky. I also wonder what whisky I will serve at my own wedding some day…surely a top shelf cask strength one at the wedding party's table, as I'm sure I'll only marry a woman who is a massive whisky fan!