by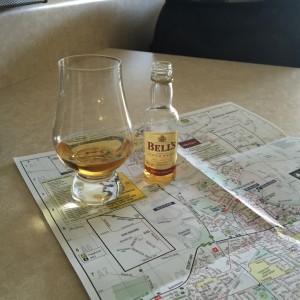 Bell's Finest Old Blended Scotch Whisky. Scotland. ABV: 43%. Tasted at the City Park Motel & Apartments, Wagga Wagga (the town so good they had to name it twice). $0 – courtesy of my able road trip buddy Pete.
Colour: Dehydrated truckie's piss. Bear with me, continuing the road trip theme…
Nose: Floral notes, a touch of fresh strawberry then a funny prickle in your nose as you pull away from the glass. Pete got a hint of oak & sultanas with an antiseptic kick at the end. 
Palate: Like licking a dried ice cream stick. Mixed spices with a very faint hint of vanilla. The mouthfeel is as dry as some 3 day old roadkill across the Nullarbor Plain.
Finish: Medium length, quite a drying finish with a dried oaky fade. Slightly bitter aftertaste for Pete. Bit of an alcohol burn as it passes down into your belly. The aftertaste is actually mildly pleasant, mixed spices.
Comments: I tried this one with Pete as we neared the end of a 12 day, 5500km road trip across Australia from Perth to Sydney. I'm really looking forward to starting a new job in Sydney next week, but I'm also looking forward to explore the Sydney whisky scene.
After such long days on the road, it's been good to unwind with a dram, but unfortunately isolated roadhouses in the middle of Australia don't have the best whisky selection. Luckily I brought a dozen of my favourite bottles with me for the ride!
Pete helpfully threw in this little bottle of Bell's for a bit of a laugh to give us something interesting to taste & for me to review. It's not a particularly complex whisky, but to be fair it's probably not aiming to be a world beater. It's surprisingly better than I had anticipated. Like a roadhouse motel in the middle of Australia, you're thankful for the comfort it provides but you don't have high expectations. Perfectly quaffable, but I'm not about to rush out and buy a bottle.