by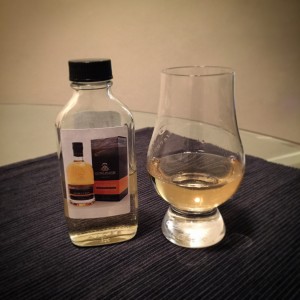 Glenglassaugh Evolution Single Malt. Speyside, Scotland. ABV: 57.2%. Tasted at my good friend Kiwi's place, $27 (100mL bottle split).
Colour: Extremely pale straw.
Nose: Grassy notes with a citrus prickle.
Palate: Lemon sherbet zings on the front of the palate. White pepper and oak notes too.
Finish: Warmth tingles on the front of the palate and all around the mouth. It's quite a long and dry finish with some salty lemon notes.
Comments: Making use of first fill ex-bourbon casks (from George Dickel I believe), there's definitely an abundance of fresh oak and peppery notes but not much evidence of the typical honeyed vanilla flavours you might expect. There's a freshness about it and some nice flavours going on, but it's not a mouthfeel that I really warm to – it just comes across as a little too young and brash. It represents one of the NAS releases since Glenglassaugh was brought back to life, the distillery having been mothballed from 1986 until it was refurbished and recommenced production under new ownership in 2008.
Having moved from Perth across to Sydney for work, I couldn't bring my entire whisky collection…some of that was bequeathed to a few of my good mates before I departed. However I did pick up a handful of 100mL bottle splits before I left as they were much more easily transportable and also provide the opportunity to try a broader range of whiskies without lashing out on a full bottle. Stay tuned for a few more shortly, there's a couple of interesting ones coming up!