by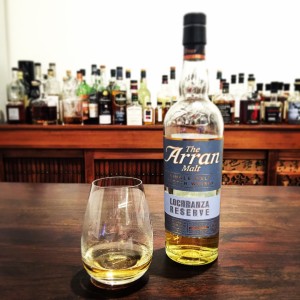 The Arran Malt Lochranza Reserve Single Malt. Isle of Arran, Scotland. ABV: 43%. Tasted at home, $100 (bottle).
Colour: Pale brilliant gold.
Nose: Extremely light, to the point where a good swirl of the glass was required to really excite some of the aromas. Some more time in the glass revealed citrus, pine needles and freshly sawn timber notes. It's all very fresh.
Palate: White peppery spice, vanilla and lemon cheesecake. Quite a dry mouthfeel.
Finish: A salty, drying finish of medium length – though the warmth and tingle around the front and mid palate outlasts the flavours.
Comments: Whilst as a typical Arran it is quite light and a little fruity (citrus driven rather than juicy stone fruits), it's not as sweet or flavoursome as other malts I've enjoyed from them. I've got a soft spot for Arran as it's a newish distillery (relatively speaking, established in 1995) and it was the first distillery in Scotland that I made a beeline for when I visited a while back. They produce some amazing whiskies for such a young distillery, but for me the Lochranza Reserve is ok but far from their best representation of the distillery's style.