by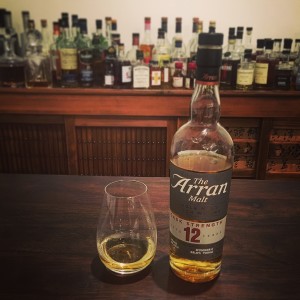 The Arran Malt 12 Year Old Cask Strength Single Malt (Batch 5). Isle of Arran, Scotland. ABV: 52.9%. Tasted at home, $130 (bottle).
Colour: Rich gold.
Nose: Vanilla, light oak, milk arrowroot biscuits. A touch of lemon rind, hints of honey and a few hay like notes.
Palate: A cool entry, then a salty-sweet cacophony as the malt dances over the palate. Dried candied pineapple chunks; it reminds me of picking out the chunks of dried fruit from a bowl of muesli.
Finish: A strident Arran finish; this is a great example of the house style. Long finish with some hay notes, a satisfying lemon sherbet tingle on the lips and front of the tongue. A few soft hazelnut notes in the fade too.
Comments: Matured in a mix of first-fill sherry butts, second-fill sherry hogsheads and first-fill bourbon casks. This is the whisky that reminds me of why I love Arran distillery – they're light, they're fresh, lots of light fruity flavour and they're not trying to be like any other whisky – they're just doing their own thing. And it's fantastic.