by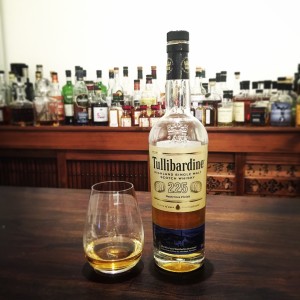 Tullibardine 225 Sauternes Finish Single Malt. Highlands, Scotland. ABV: 43.00%. Tasted at home, $100 (bottle).
Colour: Deep gold.
Nose: Cooked mash, a hint of honey.
Palate: Rich tangy honey; not as sweet as you might expect, almost a bit of salty citrus, reserved lemon.
Finish: A medium length finish with salty cereal notes in the fade. A touch of cracked black pepper spice too.
Comments: I was intrigued to try a whisky from Tullibardine, a small distillery that produced its first spirit back in 1949 but was closed from 1995 to 2003. After changing hands a few times, it's now producing a small range of whiskies, most of which aren't available in Australia.
With this expression having a Sauternes finish I had envisaged there to be more sweet notes on the palate, similar to say a Glenmorangie Nectar D'Or. It's more savoury and citrusy than expected, a solid and very easy-drinking whisky but not a world beater.