by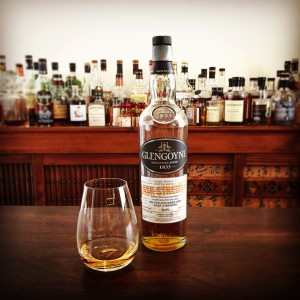 Glengoyne Cask Strength Single Malt. Highlands, Scotland. ABV: 58.20%. Tasted at home, $100 (bottle).
In honour of my crazy Glaswegian friend Shelly who has her birthday today, I thought it appropriate to review a whisky from one of the closest distilleries to Glasgow.  Happy birthday Shell!
Colour: Bright molten toffee.
Nose: Creamy caramel and cocoa; honey on hot buttered toast.
Palate: Malty straw notes duke it out with some creamy tangy lemon cheesecake flavours. It's a big mouthfeel, oily and luscious.
Finish: Long and full, as you'd expect from a cask strength whisky. Creaming soda and sugary lemon sherbet flavours linger long on the front half of the palate.
Comments: Much like my friend Shelly, this whisky is full throttle and hits you at cask strength.  After a few drinks it will no doubt cause you to morph into the loudest and most outrageous member of the party, but that's ok because it's your birthday!
This was another one of the whiskies I selected as part of my "Rebuilding a Whisky Collection – The $1000 Challenge" a little while back, which ticked off the "cask strength" category. It's been a very enjoyable whisky, with great balance between creamy toffee flavours and some tart citrus notes. This bottle is nearing the end (not in one sitting!), I will definitely be placing an order for another. Recommended.