by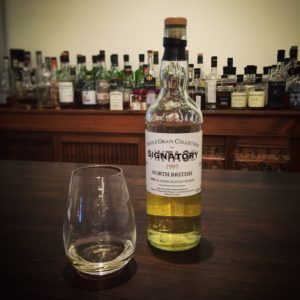 Signatory 1997 Single Grain Collection North British 18 Year Old Single Grain Scotch Whisky. Lowlands, Scotland. ABV: 43%. Tasted at home, $100 (bottle).
Colour: Faded apple juice.
Nose: Like walking through a forest on a crisp, cool morning. Geez that sounded a bit wanky.  Fresh hay and sawn timber (ok, it's not a national park), lemon peel, a hint of coconut.
Palate: Light, cool and savoury on the palate. Like biting into a water cracker with a finely balanced piece of cheese – you're so focused on the texture at first that you're not quite sure what flavours are dancing around on your tastebuds. Better have another sip…this time there are indeed water cracker notes, along with honey, creamy apricots and some residual husky cereal notes. There's no malted barley in this, but if you've ever been on a distillery tour and been given a few grains of malted barley to bite into…this whisky shares some of those notes and sweetness.
Finish: Medium length, with some vanilla and toasted biscuits. A gentle salty fade with a lemon sherbet tang, a hint of liquorice too.
Comments: Grain whiskies are not uncommon, but single grain whiskies certainly are a much rarer beast. This is only the second single grain whisky I've tried, though this is the first one that I remember tasting as the Invergorden The Five – Rich & Extremely Rare Single Grain 47 Year Old Whisky that I once tried was the eighth whisky of a very large night out in Glasgow!
This one is from the North British Distillery just outside of Edinburgh, a grain distillery that produces whisky spirit destined to go into blends such as Johnnie Walker, Cutty Sark and The Famous Grouse. If the quality and complexity of this whisky is anything to go by, I hope North British bring out a few more single grain releases to introduce themselves to a much wider audience. Top stuff.