by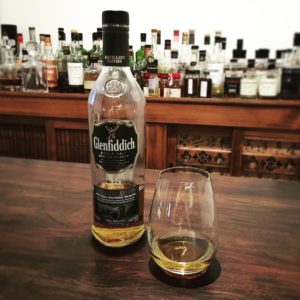 Glenfiddich Distillery Edition 15 Year Old Single Malt. Speyside, Scotland. ABV: 51%. Tasted at home, $135 (bottle).
Colour: Dirty gold.
Nose: Fresh strawberries, sherbet coated soft serve ice-cream cones, soft vanilla and sweet oak.
Palate: Cool entry, closely followed by a warmth that fills the mouth. Oily mouthfeel. Creamy with a hint of sweet lemon tanginess. Full flavoured – think golden syrup rather than honey; lots of vanilla too.
Finish: A long gentle tingle all around the palate, roof of the mouth as the whisky gently finds its way to warm the chest.  This is a winter warmer without being too intense. Honey on hot buttered toast flavours in the fade.
Comments: It's a bloody cold night here in Sydney, so a whisky with more oomph was required. This one definitely ticks the boxes – bucketloads of flavour, a full mouthfeel and a satisfying warmth that convinces you that you've made the right choice to stay inside. Recommended for those without log fireplaces to curl up beside. Actually, recommended for those that do as well – this is good stuff! Keep drinking to ensure you remain warm at all times.