by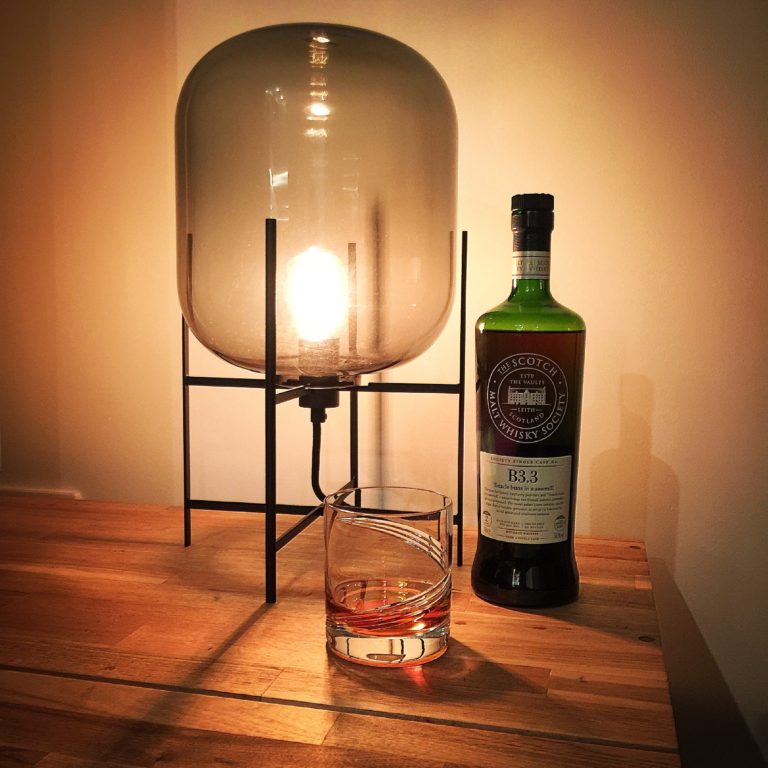 Whisky #419: SMWS B3.3 – Treacle Buns in a Sawmill. 2 year old single cask bourbon from Rock Town Distillery, Arkansas, USA. ABV: 54.3%. Tasted at home, $155 (bottle).
It's Friday, it's been a long week. A cask strength dram is required to kick start the weekend. I've just received my latest order from the SMWS so timing is perfect to sit back at home, put on some tunes and relax with an intriguing whisk(e)y…
Colour: Deep amber.
Nose: Maybe primed a little by the name, but definitely treacle buns in a sawmill. The SMWS  tasting committee have absolutely nailed this one – the name describes the nose more so than all other parts of this dram combined! Some sweet prickly ash or Chinese five spice in there too.
Palate: Char siu (Chinese BBQ pork), tangy golden syrup and some Cajun spices. Like a fiery yet sticky bbq sauce slathered over some pork ribs.
Finish: Sweet, tangy, peppery and salty – all at the same time yet in beautiful balance. Some dry dusty oak flavours in the fade.
Comments: Absolute bucketloads of flavour, especially for such a young whisk(e)y. You could be forgiven for thinking I've described this one with lots of food analogies because I'm hungry, but I'm not all that peckish – it's just that it really is packed with lots of juicy, meaty, savoury flavours.
A 2 year old single cask bourbon released by the Scotch Malt Whisky Society? Who cares…the SMWS have always been keen to push the envelope, and dammit am I glad they pushed this one. Great value, highly recommended.