by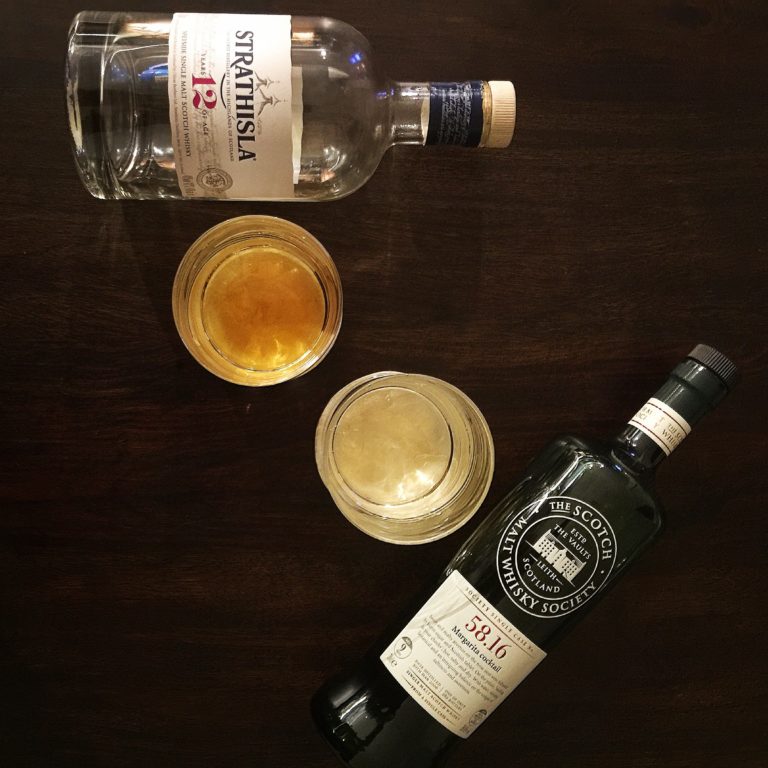 Back when I was choosing whiskies I'd never tried before as part of my "Rebuilding a Whisky Collection – The $1000 Challenge", I chose the Strathisla 12 Year Old Single Malt for a couple of reasons.  It seemed cracking value for money and fit the bill as the quaffable, go-to whisky for the collection. Strathisla is also the distillery that comprises the base of Chivas Regal, which makes for an interesting anecdote when serving a whisky to friends who visit or those who are starting their whisky journey – everybody has heard of Chivas!  I'm also not going to serve a whisky novice some really pricey whisky as they may not appreciate it.  That's why we all need a quaffable whisky in our collection which is also great drinking in its own right to share with anyone who visits.
There's not many Strathisla bottlings around, yet most whisky drinkers would have consumed some as part of a Chivas. So having recently ordered another Strathisla bottling, this time from the Scotch Malt Whisky Society, I thought why not compare both side by side.
Whisky #420: Strathisla 12 Year Old Single Malt. Speyside, Scotland. ABV: 40%. Tasted at home, $80 (bottle).
Colour: Light caramel.
Nose: A very light nose. Carrot cake, maybe a hint of orange marmalade. Maybe I'm clutching at straws.
Palate: Very smooth entry, oily mouthfeel. Some cooked vegetable and tasted cereal notes balanced by a toffee sweetness.
Finish: Malty notes dominate in the finish, some salty tanginess and warmth on the front of the tongue as the other flavours subside.
Comments: Such an easy drinking dram, though possibly let down a little by such a light nose.
Whisky #421: SMWS 58.16 – Margarita Cocktail. 9 year old single cask whisky from Strathisla Distillery, Speyside, Scotland. ABV: 59.4%. Tasted at home, $169 (bottle).
Colour: Very pale straw.
Nose: Very malty; like walking into a bakery and copping a hit of both freshly baked bread and half baked loaves.
Palate: A sharp, crisp entry that darts down the middle of your palate. Dominated by malty, cereal notes. Plenty of warmth that gradually builds.
Finish: A long, salty and tangy finish – much like the 12 year old but with more punch. Grassy notes and heat too.
Comments: This is a whisky that gets straight to the point. Almost a bit raw, some real malty, new make-y kind of flavours in here. It really feels like this is one where the cask influence has taken a back seat and let the pure house style shine through. This is Strathisla stripped back, exposed, and ready to be enjoyed.
Overall Comments: Such different whiskies, amazing considering they've come from the same distillery. The 12 year old drinks a lot fuller than its 40% ABV, it really seems to have a much bigger flavour profile and mouthfeel than most 40% whiskies. The biggest difference is probably the toffee sweetness in the 12 year old too. At $80 a bottle, it really is cracking value too.
For me, the 12 year old is a much more balanced whisky, whereas the SMWS bottling is quite raw. Whereas a lot of the Society's bottlings shine due to both the cask and influence of all the many variables from barley through to distillation phases, this one seems to allow the distillery character to bare all to the world. It's far from my favourite SMWS bottling, but I love it for the fact that it's quite unique…even from the other Society bottlings which are all obviously quite unique but in different ways. I think that's almost a triple tautology, but you (hopefully) get what I'm trying to say! Recommend both, but for very different reasons.