by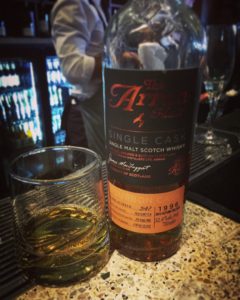 The Arran Malt Single Cask No.547 Single Malt 2013 Autumn Release (Vintage 1996). Isle of Arran, Scotland. ABV: 52.4%. Tasted at The Stables Bar, Randwick Racecourse, $30.
Colour: A deep, murky, lustrous amber.
Nose: Like sticking your nose nose into a fresh bunch of flowers. Light, floral and fruity. Typical Arran.
Palate: Smooth; the mouthfeel is like having an ice cube or a cool marble on your tongue. Sweet lemon biscuit & fresh ginger notes. It definitely seems lower and smoother than the 52.4% ABV suggests.
Finish: Fresh oaky fade with some sweet creaminess – think sucking on a Paddle Pop stick after you've polished off the ice cream.
Comments: I'd been at the races with friends and after polishing off a heap of champagne, beer, shiraz and an espresso for good measure, I decided it was time for a whisky as clearly by that point I'd not had enough booze. They've got quite a decent range at The Stables, so as one of my favourite distilleries I chose this single cask Arran.
This was a week ago; I'd forgotten about the tasting and I happened to stumble across my tasting notes and thought I'd better get around to posting. Given all this, I was mildly surprised at the state of my notes given the state of the day's consumption!
I think I might have to try it again given the review above!